In Office Insurance Program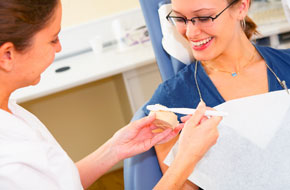 For those of you who do not have dental insurance, we offer an "In Office Insurance Program" for adults and children. It is a great program that will benefit you, your family, and your pocket book.
Many patients have already taken advantage of this program and are very pleased. The benefits that you receive with this program include over $100 in savings for adults and $130 savings for children for two exams, two cleanings, cavity detecting x-rays, and one fluoride treatment for the year. Along with this you will receive 15% off (when you pay day of service) any needed dental treatment. These benefits will expire a year from the date purchased. Please feel free to call our office at 715-294-2202, or ask any staff member for more information on our new insurance program.
Hauge Dental Care Benefit Program
Benefits Requirements
Not enrolled in any other dental insurance benefit program
Maintain a healthy mouth and routine dental visits
Adult Annual Program Fee is $295.00 (ages 17 and over)
Child Annual Program Fee is $225.00 (ages 16 and under)
Program Benefits-Covered At 100%
Two exams per year
Two professional routine cleanings per year
One fluoride treatment per year
Routine cavity detecting x-rays (four) per year
No paperwork, Great Savings
A $408.00 value for adults = Savings of $113.00
A $392.00 value for children = Savings of $167.00
Program Benefits - 15% Off Procedures
The program also includes 15% off on any needed dental restorations and procedures to include:
Tooth color fillings
Full mouth X-rays
Crown and bridge procedures
Implants
Periodontal procedures
Oral surgery and extractions
Whitening procedures
Root canal therapy
Dentures
In order to receive 15% off, the procedure must be paid in full day of service.